Reading Time:
4
minutes
Cheek fillers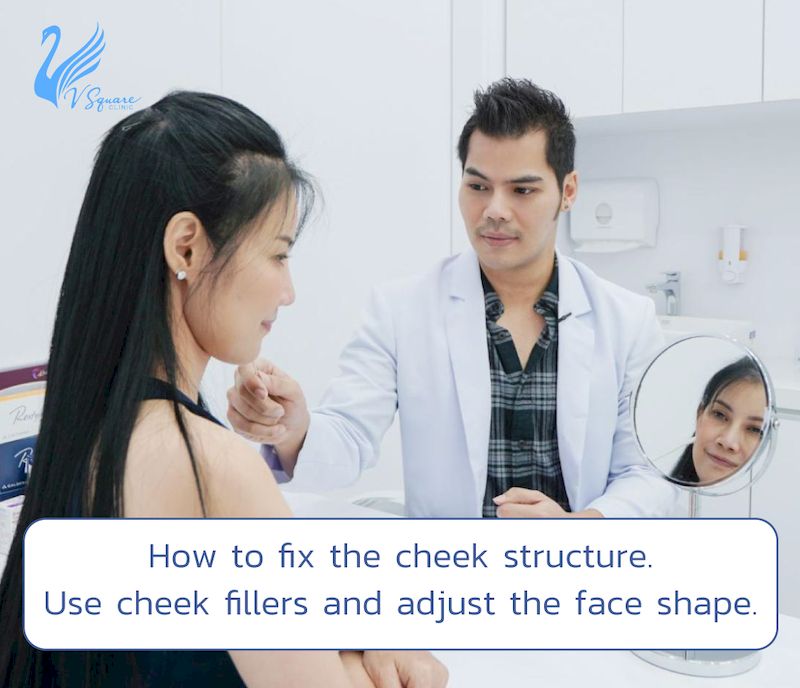 Cheek Fillers can resolve problems related to that of the cheeks that are caused by the fat layer around the cheeks collapsing. The atrophy becomes thinner until it gradually disappears, causing the cheeks that used to be full and firm to look wilted and seem like a small puddle. Most of the answers to these cheek problems occur in people who are ageing, or people with high cheekbones through genetics which can currently be solved by injecting cheek fillers.
What is Cheek Filler Injection? Know the advantages and precautions before injecting cheek filler. Who is it suitable for? How much is it? Which brand of filler is good? Fill in the cheeks to give them a fuller look, tighten the skin, making them firm with a lasting natural and young look. Get ready to endure a list of 20 cheek filler injection clinics in Bangkok, including physicians who are skilled in injecting fillers to adjust the shape of the face with more than 15 years of experience.
Cheek filler content
---
What are cheek fillers
Cheek fillers are hyaluronic acid, or HA for short, which are confirmed safe as it has been certified by the FDA. They have outstanding properties in filling or enhancing the skin layer. Therefore, the problem of cheeks can be corrected to the point.
When injected into the skin the cheek filler will replace the lost fat layer or the fat layer that has collapsed until it forms a puddle around the cheeks. To come back to look shallow and smoother. Resulting in a fuller, younger looking face. They adjust the face shape to become fuller with balanced proportions. It also helps to enhance financial physiognomy according to Chinese beliefs.
After injecting the cheek filler, the change is seen immediately. See full results in 2 weeks.
---
Cheek fillers pros and cons
Pros
Cheek Fillers are safe HA type fillers.
No surgery, no scars and no downtime required.
After the cheek filler injection the face will immediately fill up.
Cheeks are plumped up, looking firmer and younger.
Reduce the cheekbones to become less prominent. Adjusts the shape of the face for better proportion.
The fillers are naturally biodegradable, safe and leave no residue.
After the filler disintegrates you are able to refill the area continuously.
Cautions
In some cases, swelling, redness, bruising and itching are normal symptoms. These can heal on their own in 2-3 days.
Choosing the wrong brand of filler and filler model or using too much cc may cause uneven skin tone, palpable skin and form lumps or blisters.
If the cheek filler is injected with non standard or fake filler, the area will become inflamed and infected.
For secure beautiful results, before injecting patients should choose a reliable clinic and refrain from injecting cheek fillers with an inexperienced physician making sure to use only genuine fillers.
---
Cheek filler costs
Cheek Fillers have a starting price of 13,000.-/1 CC depending on the brand of filler and quantity used.
At V Square Clinic, fillers are chosen from 2 world-class brands as follows: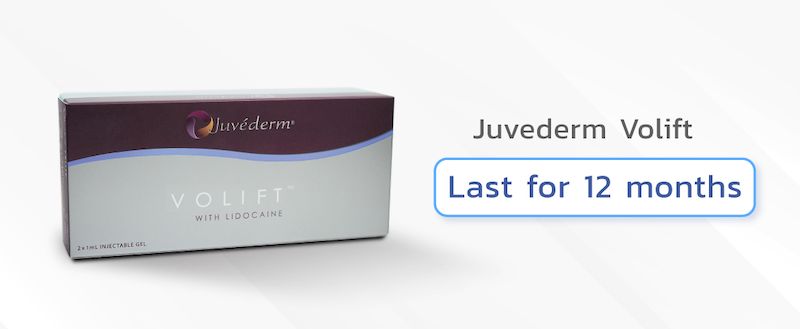 Juvederm Volift (Filler America) : Soft Filler, suitable for people who have problems towards cheeks and have thin skin, can last for 12 months, price 14,000.- / 1 CC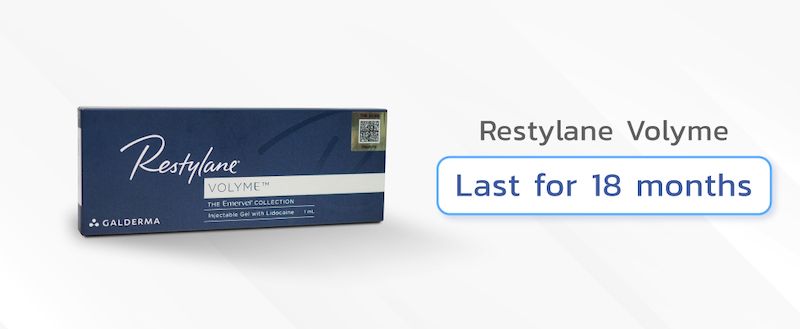 Restylane Volyme (Swedish Filler) : Soft Filler, used to fill the skin for a more fuller look. Helps the cheeks appear fuller, lasts for 18 months, price 13,000.-/ 1 CC
Each brand and model of cheek filler have different strengths. so that the physician can choose the appropriate filler in solving individual problems directly for a beautiful and natural finish.
---
Cheek fillers before and after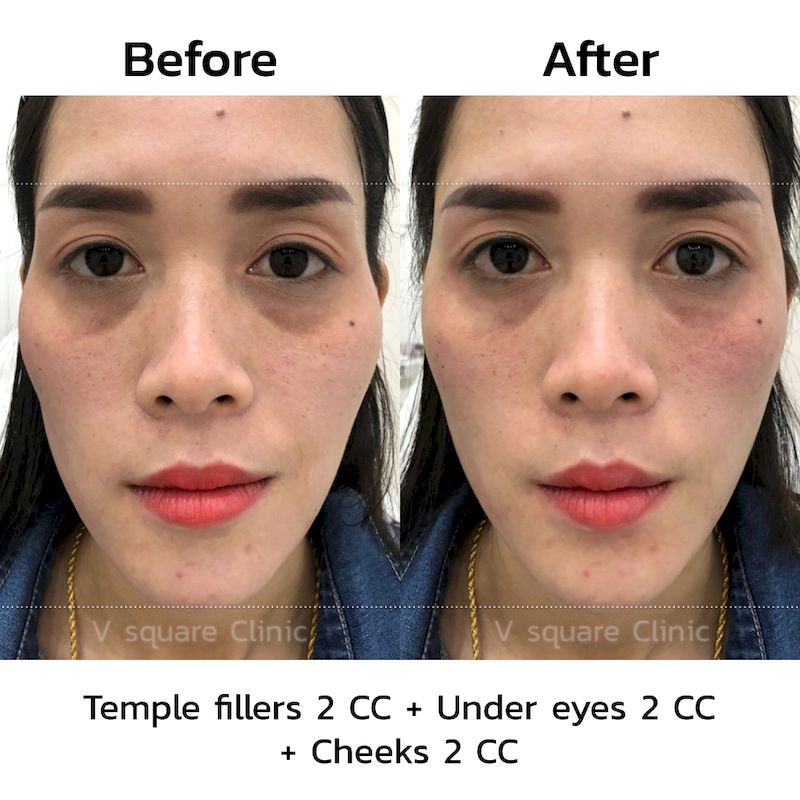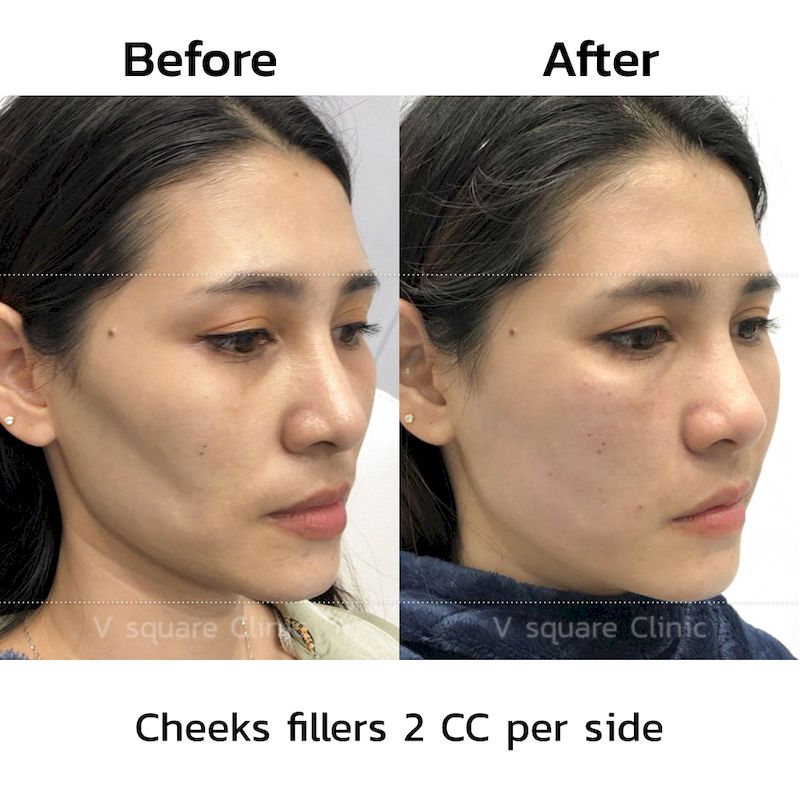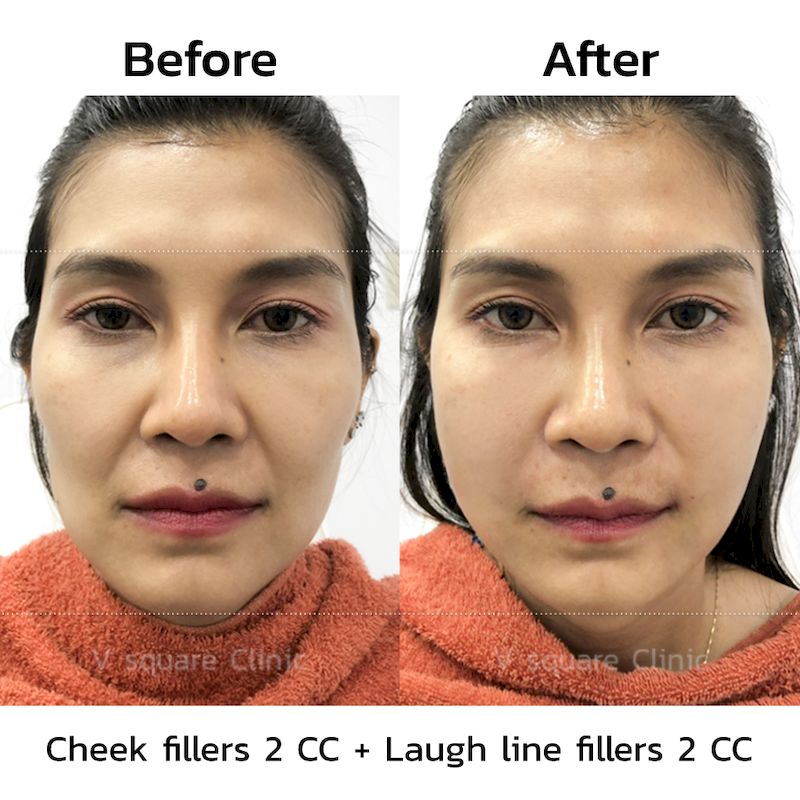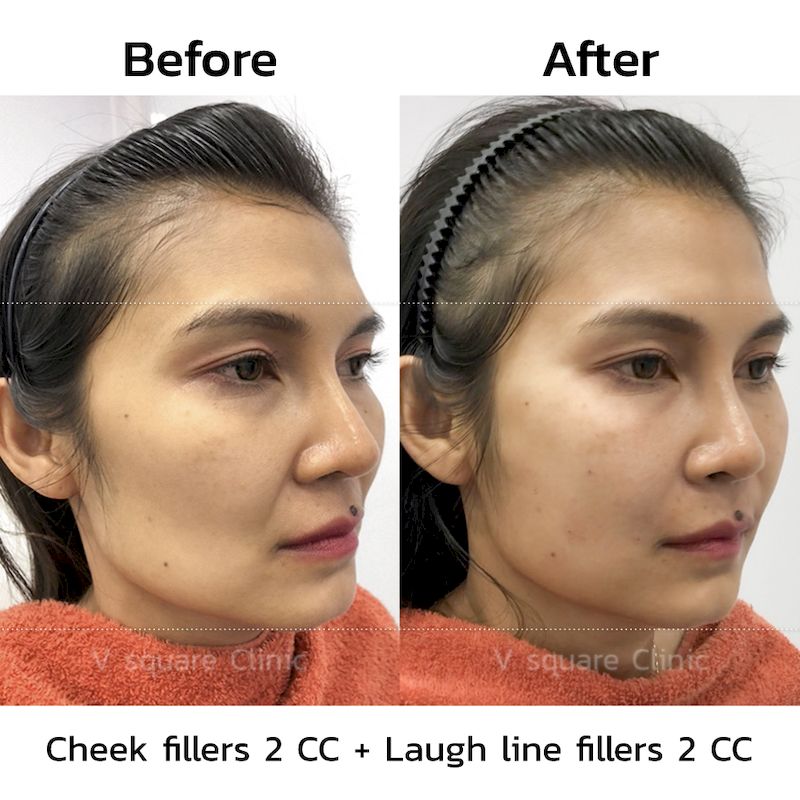 ---
Cheek filler injections in Bangkok
All 22 cheek Filler Injection Clinics in Bangkok V Square Clinic meet the maximum standards, which includes a team of highly experienced physicians in filler injections and face shape adjustments. There is convenient transportation and is easy to find. Most of them are located in malls and near malls.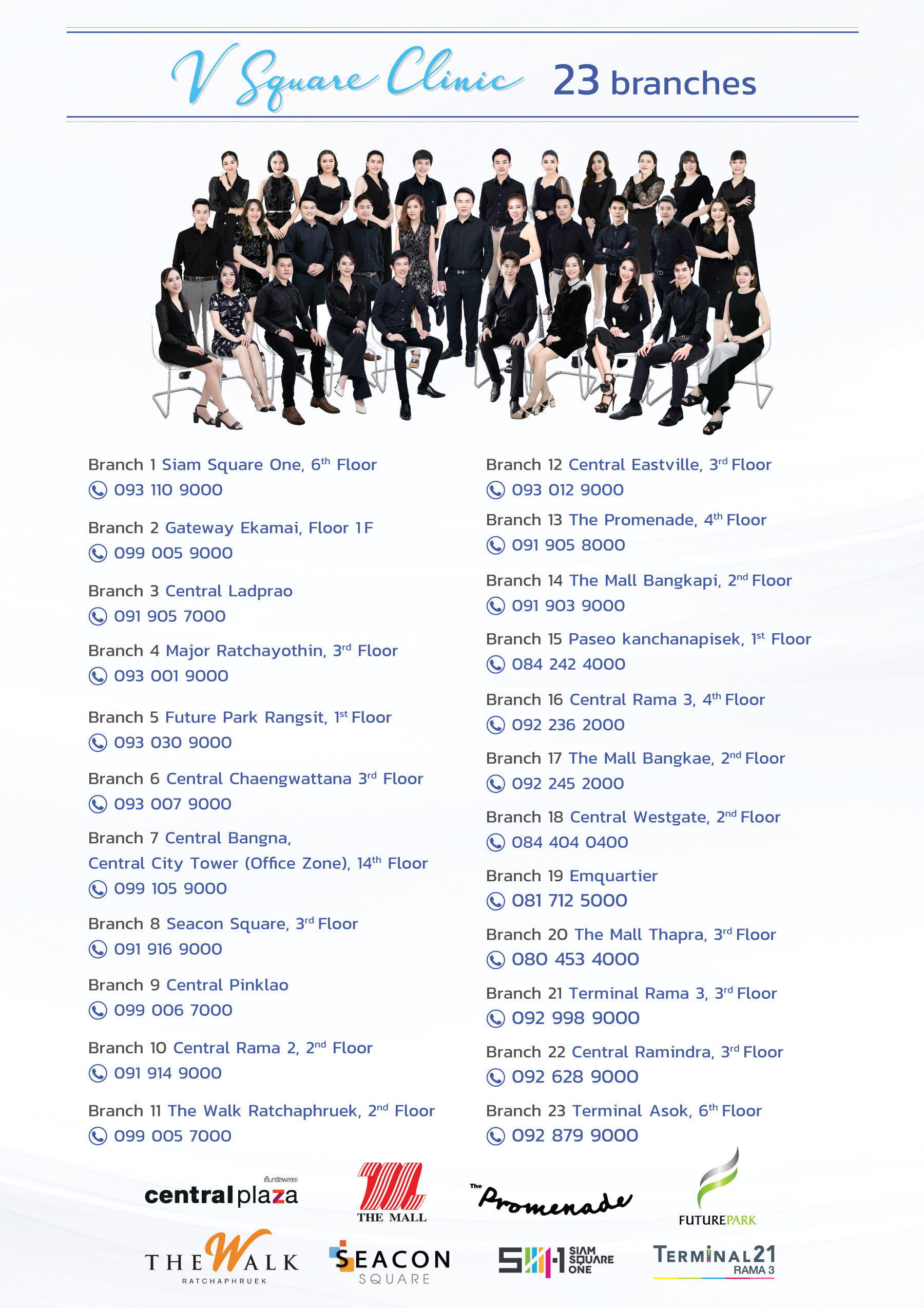 ---
Summary
Cheek fillers are safe HA type fillers able to solve cheek problems on the spot, whilst receiving natural results. Cheeks do not come out as lumpy. The experienced physician will be able to choose the brand and model of filler that is suitable for the case and skin condition.
V Square Clinic uses world-class brand fillers, injected to fill the cheeks. The cost starts from 13,000.-/1 CC. After injection, the results are as clear as day. Cheeks appear shallower and smoother. As a result, the face looks younger, adjusting the face shape to look even more dimensional and proportional.
For those who have problems with cheek shaping or structure, you can consult or send a picture of your face to the physician for online evaluation and choose to use the cheek filler injection service in any of the 22 clinics in Bangkok.
---
สำหรับผู้อ่านทุกท่านที่มีข้อสงสัยเพิ่มเติม ทีมแพทย์
V Square Clinic
ทุกคนยินดีให้คำปรึกษาฟรี โดยไม่มีค่าใช้จ่าย หรือสามารถปรึกษาหมอทาง
inbox facebook
หรือ
Line
นี้ได้เลยครับ หมอตอบเองครับ

สามารถ comment สอบถามเข้ามาด้านล่างได้เลยนะครับ หมอตอบเองครับ